Shake Shack has partnered with Californian startup Zero Acre Farms to trial the latter's sustainable Cultured Oil on select menu items at two locations in New York City. The pilot is part of Shake Shack's Stand for Something Good commitment, swapping soybean oil for Zero Acre's better-for-you and eco-friendly fermented cooking oil.
Zero Acre's oil will be used for Shake Shack's crinkle-cut fries, 'Shroom Burger, Shake Stack, Veggie Stack, Chicken Shack, Chicken Bites and dishes from its limited-edition Hot Menu. It marks Zero Acre's food service debut, a year after it launched into the retail market.
Emerging from stealth mode in February 2022, Zero Acre's all-purpose Cultured Oil uses rain-fed sugarcane, which is converted into oil by specific strains of microbes proficient at storing oils and fat. The process is similar to how sugar is fermented into alcohol. The result is a neutral-tasting, high-smoke-point cooking oil rich in heart-healthy monounsaturated fat, with a 90% smaller environmental footprint than conventional vegetable oil.
Better for you, better for the planet
The companies say vegetable oils are the second ingredient in most fried foods and the third most consumed food in the world and account for 20% of American calories. Substituting them with people- and planet-friendly fat alternatives feels like a no-brainer. Zero Acre's fermented oil has more monounsaturated fat than olive and avocado oils and contains fewer fats linked to inflammation, heart disease and poor health.
In terms of its climate credentials, an independent life cycle assessment found that Zero Acre's Cultured Oil uses 87% less land than canola oil, has 86% fewer greenhouse gas emissions than soybean oil, and consumes 99% less water than olive oil. However, it does have marginally higher water use than canola oil and emissions than sunflower oil. While its land use is the same as palm oil, the latter mostly grows near the equator and has caused widespread tropical deforestation as land is cleared for its production.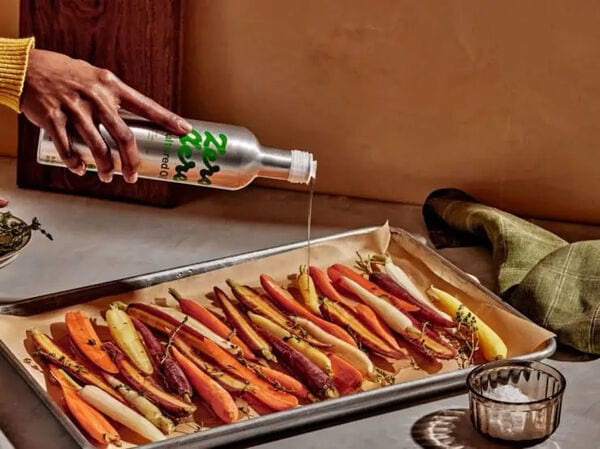 "Like many food businesses, our menu items depend on the natural environment so we can continue serving guests the food they love," said Jeffrey Amoscato, senior VP of supply chain and menu innovation at Shake Shack. "It's why we are continuously exploring new ways to reduce our environmental footprint, including partnerships with companies like Zero Acre, who are creating sustainable food solutions.
** Click here to read the full-text **