Cultivated food
Plant-based food
2022 Insights on the United Kingdom Pet Care Industry: Demand for Vegan Animal Food is Likely to Be Driven by Changing Owner Tendencies in Feeding Plant-Based and Healthy Meals
DUBLIN–(BUSINESS WIRE)–The "United Kingdom (UK) Pet Care Market Overview 2027" report has been added to ResearchAndMarkets.com's offering.
According to this report the market is anticipated to witness exponential growth during the upcoming time frame owing to increasing adoption of pets.
Other reasons contributing to the expansion of the pet care market include improving attitudes toward pets, changing lifestyles, an increasing number of nuclear households, and a growing number of millennials. Further, demand for vegan animal food items is also likely to be driven by changing animal owner tendencies in feeding plant-based and healthy meals to their pets.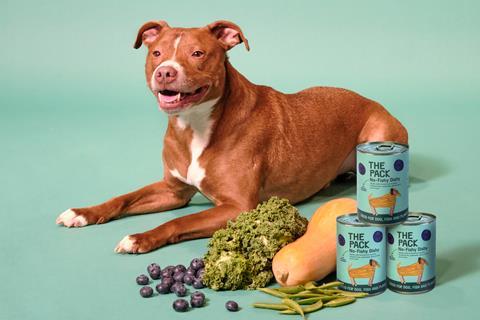 Aside from that, the rising popularity of premium service dog and cat toys among animal owners is likely to boost the demand for pet dog and cat toys. Rising demand for high-quality animal hygiene products is expected to fuel market expansion over the coming years.
Pet owners all over the world see their animals as members of their families and seek high-quality pet care products and services to ensure their well-being. Recent advancements in the pet care market have been fuelled by concerns about these pet care product safety requirements.
Pets have a special place and are considered family in most homes. Pet care products are becoming more popular as people are focusing more on animal welfare and well-being. Food, hygiene, toys, and other kinds of animal care products are now widely available in the market.
The demand for premium pet care products and services is also being driven by rising pet adoption rates and increasing per-capita pet spending across regions. In addition, a main driver of the pet care business across the country is rapidly increasing urbanization. Cats, dogs, and other pets are most popular because they are simpler to humanize and indulge than larger animals. Nowadays, cats have become a prominent choice as pets for pet owners, which are subsequently driving the sales of cat care products and accessories.
Having a companion animal offers several benefits such as reduced stress, boosting confidence, healthy heart, and blood pressure and cholesterol levels control, which are scientifically proven facts that encourage people to own pets. Surging pet ownership among the millennial and generation Z along with the rapidly penetrating social media and e-commerce platforms across the globe significantly boosts the pet care market growth.
Technological advancements that are making grooming, training facilities, and boarding accessible to the owners and assist in keeping track of the pets are expected to boost the market growth. Also, mobile pet grooming, a companion animal service sector is growing rapidly across the country. The hectic schedule of pet owners has propelled the demand for mobile pet grooming. For geriatric population with limited mobility, mobile grooming services have been invaluable.
The United Kingdom (UK) pet care market is segmented into four major parts including pet food, pet healthcare, pet accessories and pet grooming. Among these types, pet food acquires higher market share compared to other types in 2021. Growing inclination towards the advantage of protein rich diet to improve the strength and help in maintaining the body condition of the pets will foster the segment size.
Additionally, majority of pet parents prefer traditional proteins such as beef and chicken when it comes to the ingredients in their pet food. However, pet grooming and pet healthcare segments are projected to witness prominent market growth by the upcoming timeframe. Further the market is segmented into four animal types including dog, cat, aquaria and bird. Among these types, dog segment is leading the market in 2021. Based on the food type, dry food is projected to dominate the market during the forecast period.