Concerns over meat consumption have many dimensions: health, safety, welfare, food habits, animal welfare, and exploitation of natural resources. These issues are gaining significant traction from the media, hence people are switching to plant-based eating habits.
According to a report by Market.us, " The Global Vegan Meat Market is projected to reach a valuation of USD 36.14 Bn by 2032 at a CAGR of 16.40%, from USD 7.92 Bn in 2022."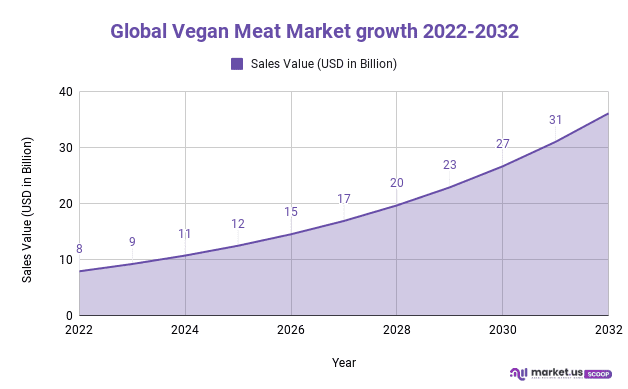 Animal welfare organizations like People for the Ethical Treatment of Animals (PETA) and World Animal Protection (WAP) have propagated the humanization of animals on a large scale. In other words, they have argued that animals should be treated more like humans in terms of moral consideration. These trends have become the basis of global food consumption.
Anurag Sharma, senior research analyst at market.us said, "Nowadays people are more inclined to favor plant-based diets. Rising animal welfare movements and health concerns are encouraging people to lean towards cruelty-free alternatives. Along the same lines, they also demand a similar taste and texture which is associated with animal-based meat and meat products."
He also added, "Veganism is driving the vegan meat market. The developed regions are seeing a remarkable increase in vegan food product consumption. The growing concern for sustainability worldwide is another factor contributing to the rise of vegan meat markets."
According to the Academy of Nutrition and Dietetics, a vegetarian diet decreases the risk of several chronic degenerative diseases and conditions including heart disease and cancer, obesity, hypertension, and diabetes. These diets work for every stage of your life cycle: pregnancy, lactation, infant, childhood, adolescence, and older adulthood.
Tofu, texturized plant protein, tempeh, and wheat gluten are all prominently used by vegan product makers to complete their vegan meat portfolio. Due to its high protein content, vegan meat can also be considered a health-beneficial product.
As people become more open to plant-based meats, this category is growing and diversifying. More options are being offered by companies at different price points. These products are sold in areas that make it appealing for meat-eaters to shop for plant-based food.
There is a strong consumer preference for natural and a variety of clean-label products, which has encouraged the development of new methods to produce vegan meat flavors. A variety of research has shown that acids, enzymatic or fermentation reactions are possible to produce flavor molecules or more complex flavor combinations.
In order to meet consumer demand for vegan food, there is a growing interest in the development of mimicked meat flavors. Many articles are available on the subject of creating plant-based meats and texturized vegetable proteins.
Singapore has become the first country to approve the commercial sale of cultivated meat. Thereafter it has become a global hub for alternative protein, as many startups are flocking to the island in order to launch and develop animal-free products.
The Asia-Pacific Food Innovation Summit saw the leaders in the food industry gather in the city-state. Several startups came together last week to agree to refer to lab-grown, also known under cellular agriculture, as "cultivated" meat.
From startups to leading food processing companies the world's largest meat-producing companies are rapidly innovating the plant-based meat market to expand their consumer base. The top plant-based meat producers are now offering vegan meat products that have a better aroma and texture, longer shelf lives, and high nutritional values. They also launch innovative alternative meat products that mimic the texture and taste of exotic meats like lobster.
Distribution is increasing, and more mainstream consumers are opting for plant-based options. The U.S. observes that 98% of consumers who buy plant-based food also buy conventional meat. Although they are more accessible than animal products, next-generation plant-based products like meat, eggs, or dairy products are becoming increasingly competitive.
These novel proteins won't act as a complete replacement for the existing meat market but rather these can be considered as an alternate option in case of food crises