Whether you're at a fast-food chain or shopping in the freezer aisle, it's becoming more common to see plant-based meat options. One of the more well-known brands in this space is Impossible Foods. You might already know the classic way to prepare an Impossible Burger or have tried the Impossible Whopper from Burger King, but the company is growing and planning to offer even more options.
Impossible Foods is expanding into school lunches, but that isn't the only thing the company is kicking off this year. According to a press release received by Mashed, Impossible Foods is bringing frozen meals to Walmart. These meals include Impossible Beef, Impossible Pork, and Impossible Chicken.
The Vegconomist explains that the frozen bowls are available at about 4,000 Walmarts across the country, and each bowl takes about five minutes to heat. This makes it easy for anyone to try a plant-based meal and also offers more frozen options for vegetarians and vegans.
Here's what Impossible Foods bowls will be available at Walmart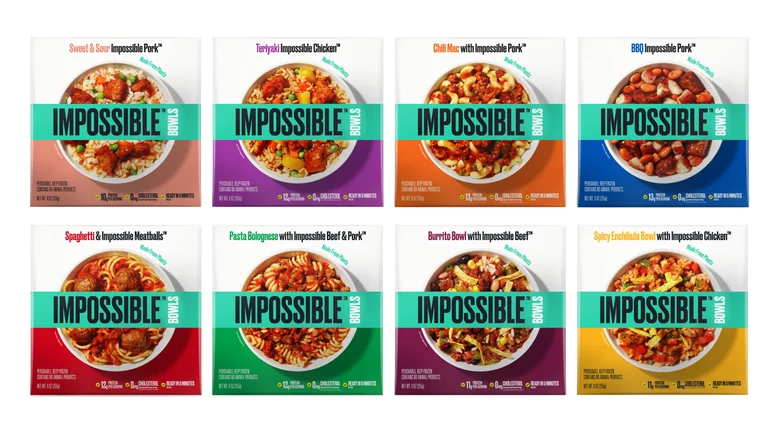 Whether you're looking for a quick meal or you just want to reduce your meat intake, the Impossible Foods bowls give shoppers plenty of options to choose from. In total, there are eight different types of Impossible Foods bowls that will be released throughout the fall. According to the press release, the four bowls launching in Walmart stores on September 1 include Sweet & Sour Impossible Pork Made From Plants, Teriyaki Impossible Chicken Made From Plants, Chili Mac with Impossible Pork Made From Plants, and Barbecue Impossible Pork Made From Plants.
The launch starts with the Asian and American-inspired Impossible Bowls, and in October, Walmart will also be stocking Impossible Bowls that are inspired by Italian and Latin American meals. Later this fall, customers can purchase Spaghetti & Impossible Meatballs Made From Plants, Pasta Bolognese with Impossible Beef & Pork Made From Plants, Burrito Bowl with Impossible Beef Made From Plants, and Spicy Enchilada Bowl with Impossible Chicken Made From Plants.